Home  

  About Anemi  

  Information about Amemi's collections  

  Alexandros G. Xydis Archive of Modern Greek Art  
Alexandros G. Xydis Archive of Modern Greek Art
In 2000 the University of Crete Library purchased the library of art critic Alexandros G. Xydis (1918-2004), along with part of his archive. The latter covers the history of Modern Greek Art and is divided into two subsidiary collections: "Greek and Cypriot Artists" and "Exhibits in Greek Galleries". Since October 2004, students in the University of Crete Graduate Program on Art History offered by the Department of History and Archaeology have been involved in cataloguing and digitising the archive material. This is an ongoing project.
Snapshot taken during relocation of the A.G. Xydis Library and Archive from Athens to Crete
From left : Michael Tzekakis, the then Director of the University of Crete Library, Costas Papadakis, Rare Books Collections employee, A.G. Xydis and Evgenios D. Matthiopoulos, professor of Art History at the University of Crete.
Alexander G. Xydis (1918-2004)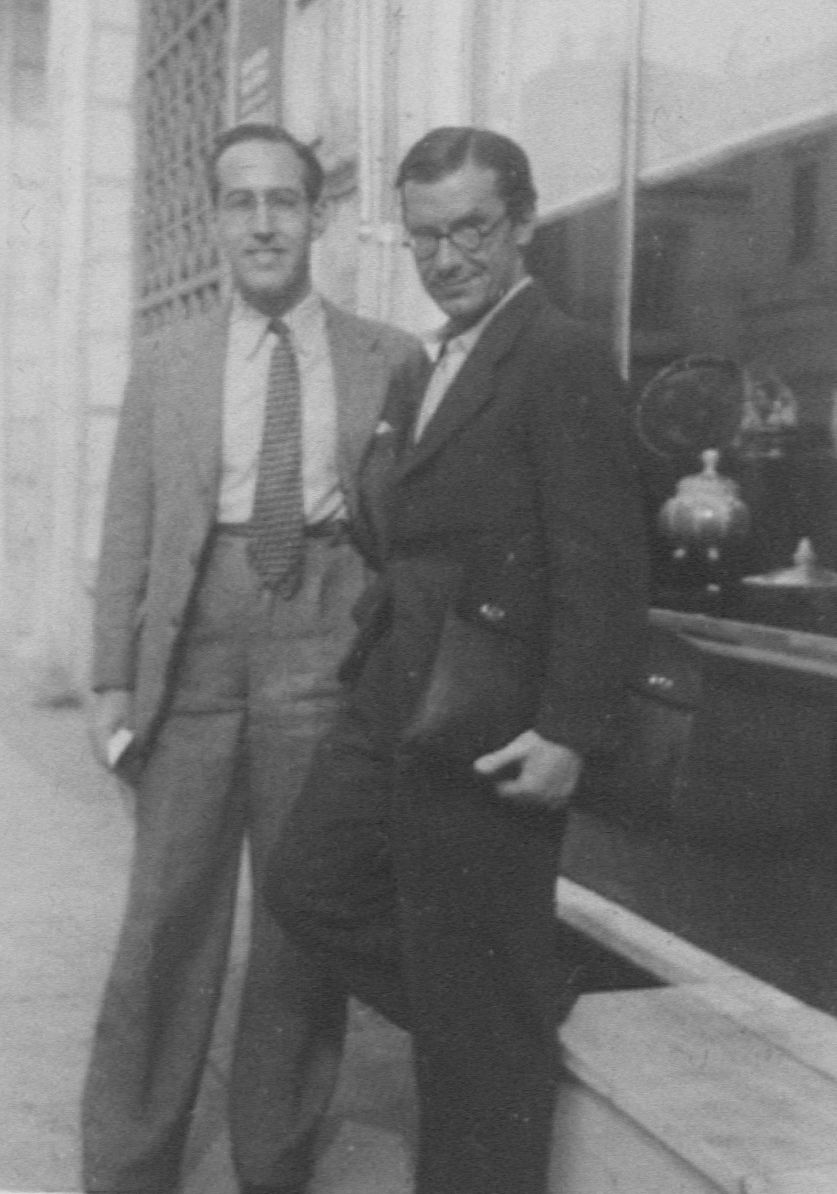 A.G. Xydis with Nikos Engonopoulos, Athens 1947
A. G. Xydis was the son of George Xydis and Alexandra Dragoumi, and the grandson of Stefanos Dragoumis, who served briefly as Greek Prime Minister in 1910. Born in Liverpool, he studied law, political science and art history in Paris and Munich. In 1904 he joined the Diplomatic Corps, serving successively in Athens, Morocco, Casablanca, Canberra, London and Damascus. In the 1950s he served in London alongside George Seferis, with whom he shared a great friendship and whose work The Political Diary (1979, 1985) he edited.

Xydis was an important art critic and a founding member of the Association of Greek Art Critics, which he served as Secretary and President for many years. During his life he assembled a significant collection of engravings and paintings, which he donated to the Macedonian Museum of Contemporary Art. Part of his political archive was donated to the Contemporary Social History Archives. In addition to publishing the magazine Τετράδιο(1945-1947), Xydis wrote numerous articles and monographs on Greek artists (Theotokopoulos, Kapralos, Parthenis, Bouzianis, Tsarouchis, Engonopoulos, Chatzikyriakos-Ghikas etc.), along with studies on modern Greek art (Propositions on the History of Modern Greek Art, 1976), while overseeing important exhibitions in Greece and abroad. He also authored a study on the Cyprus Dispute (1993). His work and activity changed the face of Greek art criticism and contributed to the configuration of modernist art in Greece from 1940 to 1990.
Cataloguing and Digitising the Alexandros Xydis Archive of Modern Greek Art
Since October 2004, students in the University of Crete Graduate Program on Art History offered by the Department of History and Archaeology have been involved in cataloguing and digitising the archive material, under the overall academic supervision of Professor Evgenios D. Matthiopoulos. Mrs Eleni Kovaiou, Manager of the University of Crete Rare Books Collections, is responsible for planning, organising and overseeing the project as regards cataloguing and digitisation, as well as for editing and entering the data in ΑΝΕΜI.

The following graduate students have contributed to cataloguing and digitising the Alexandros G. Xydis Archive of Modern Greek Art :

October 2014-June 2015

Anna Adraskela
Marilena Maragaki
Margarita Markaki
Ilia Motaki
Stelios Raptakis

February 2015-

Giorgos Karatarakis
Dimitra Petroulaki
Dimitris Tsatsaronis

June 2015-

Despina Magina

September 2015-

Myrto Geroulanou
Savina Ioannou
GiorgosPapargyriou
Vassiliki Chouchlia