Home  

  About Anemi  

  Step by step access to Anemi's digitized items  
Step by step access to Anemi's digitized items
Step by step access to Anemi's digitized items
To access Anemi's digitized items, follow the detailed intructions below:


Choose one of Anemi's search engines (Simple Search-Advanced Search-Index) and fill in the terms for which you are interested in.
For example:
Author: Ραγκαβής
Title: Απομνημονεύματα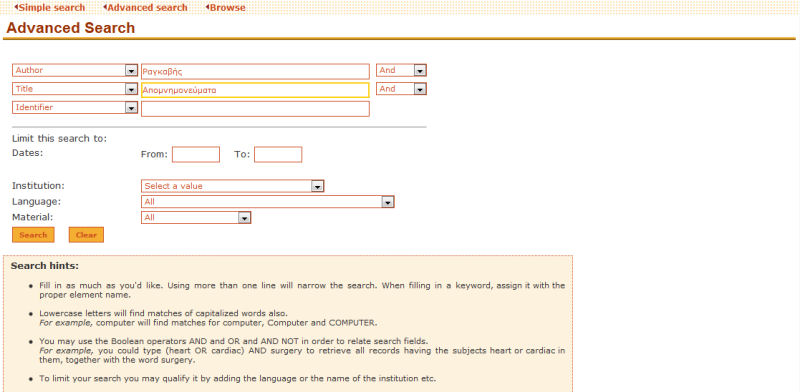 Slide 1
The item you have searched for, has been located. In the following (Search results) screen  appears its short bibliographic description, accompanied by a thumbnail image of its title-page. If the item has not been digitized, no title-page thumbnail appears (a thumbnail icon with "No Preview Available" appears instead).
In case the search request returns more than one items, the results appear in the form of a list, ordered alphabetically by record title, while the records of the results set are arithmetically numbered, according to their place in the result list. Each record is preceeded by its number on the spesific results set list, accompanied by its thumbnail and short bibliographic description.
Slide 2
By clicking on the results set record number, or on the item's thumbnail, you get access to the full bibliographic record. Below it appear the digitized items (Slide 2).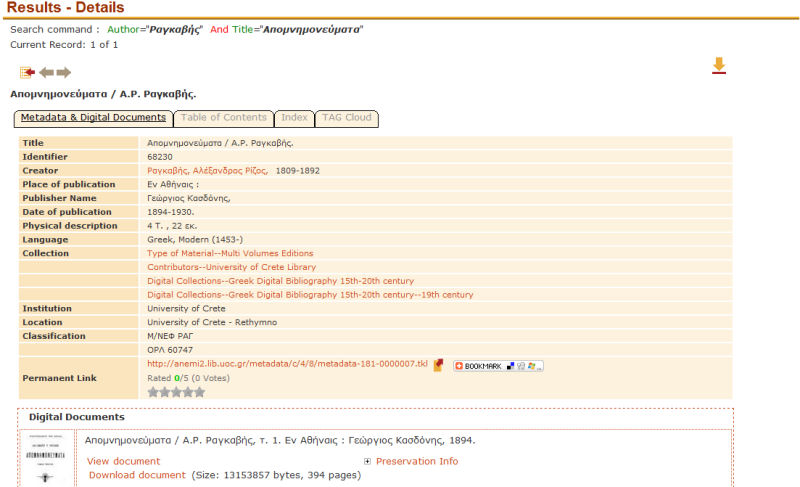 Slide 3


Clicking on "View document" brings on display the first page of the digitized item. The yellow arrows on the footer of the pdf file viewer allow you to browse the item page by page. It is also possible to print or save the specific page in your personal computer (slide 4).
By using the "Goto page" option on the viewer footer you can directly go to a specific page of the item.
Slide 4


The "Download document" option of the "Digital Documents" frame at the bottom of the full bibliographic record page allows you to view the whole item as a pdf document, or to save it in your personal computer (slide 3).